At EatFit Superfoods, we're more than just superfoods. We are passionate about the healing power of nature's nutrition that fuels and heals your mind and body.
Inspired by a daughter's journey to recovery from brain cancer, we are on a mission to help beat cancer.
My name is Karen Love. I am a wife, mother, caretaker, blogger and an entrepreneur.
In May 2014, the idea of EatFit Superfoods was born. I wanted to share my daughter, Sandra's recovery from brain cancer using diet, nutrition and alternative therapies. So, I compiled all the herbal nutrient concoctions used for my daughter's recovery and in 2019, launched two products, Collagen Peptides and HEMPdrops.
As I bring you new products, your purchase fuels my mission to help Sandra and others beat cancer.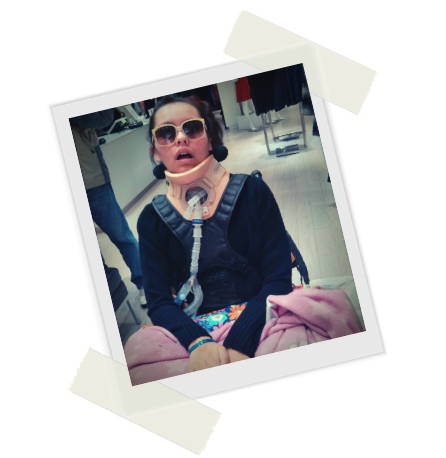 Sandra's Journey to Recovery
In September 2014, my daughter, Sandra, was rushed to the ER to find that she had medulloblastoma, a childhood brain tumor that had ruptured an artery causing internal brain bleeding. She also suffered brain swelling as the tumor obstructed the brain fluid from draining.
It was a miracle! Sandra survived, had no seizures and cognitively intact. However, speech, swallow and physical functions were greatly impaired. With lots of love, hope and determination, Sandra will get back on her feet.
Sandra is 5 years cancer-free. Nature's healing foods, nutrition and therapies such as Hyperbaric Oxygen Therapy (HBOT), Pulse Electromagnetic Field Therapy (PEMF) and Stem Cell therapy have played a major role in Sandra's progress in the past year.
Collagen...
the missing link
A high protein diet wasn't enough. Sandra had trouble keeping her weight due to muscle wasting and bone density loss from being confined to a wheelchair for almost 3 years.
What did I miss? After researching, I found collagen. Since taking collagen peptides daily, her strength has increased. Within a year, she has increased her bone and muscle density while putting on 15 pounds.
What People are saying...
" I am a Caretaker and get backaches from stress and heavy lifting. Since I started taking collagen, the backaches have subsided. Collagen peptides is definitely my go-to instead of pain meds. "
David L (Atlanta) - 2 AUG 2019
" It takes time to make protein shakes so I tend to get lazy and skip out. But I love EatFit Collagen. It's easy and not messy. I mix it with my coffee daily to supplement my daily protein intake. "
Jay Chua (Malaysia) - 25 JUNE 2019
" Collagen makes my hair fuller. I have less hair falling out and also noticed hair growing around my hairline on my forehead. Thanks Eatfit for a great product! "
Jane Woo (Malaysia) - 4 JUNE 2019
Depression
what can we do?
It was heart-breaking to see my daughter suffer from severe depression and lack of motivation. So, my husband and I started experimenting and blending herbs and nutrients to help her manage her depression.
When I heard about CBD, I tried different brands, tried making some and thought of moving to Colorado. Finally, I was able to source quality full spectrum hemp extract with all the naturally occurring cannabinoids and terpenes which has helped manage her depression.
Free Shipping
available within Continental USA
100-day
Money back quaranteed
Same-day shipping
order before 3 pm EST
Disclaimer: These statements have not been evaluated by the Food and Drug Administration. Products on this website are not intended to diagnose, treat, cure, or prevent any disease. Read full disclaimer.